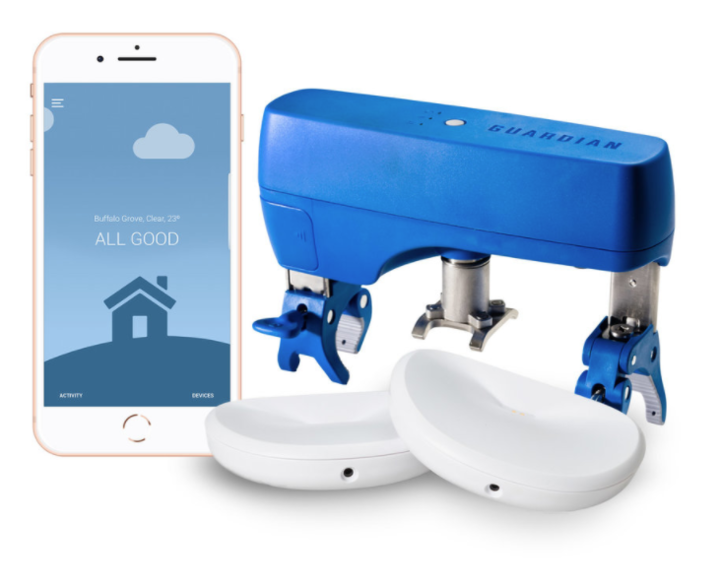 Guardian can prevent water damage in three easy steps:
1. Install 2. Connect 3. Protect
No Tools Needed
The Valve Controller installs out of the box, with no tools – hand-tighten the clamps to secure everything to your valve.
Use Your Existing Valve*
You don't need a special valve or tools to use Guardian - just a standard quarter-turn ball valve.
Self-Testing
Guardian will open and close your valve weekly to keep it in good condition and ensure proper operation during emergencies.
Battery Backup
With the optional battery backup, Guardian will protect your home and shut off your water supply during leaks for up to twelve hours without electricity.
Offline Functionality
Once configured, the Valve Controller will still shut off your water during a leak, even if the internet is down. WiFi is only required for setup as well as off-site control and monitoring of the system.
Extreme Long Range
The Water Detectors can be placed up to 1000' away from the Valve Controller, which means Guardian will protect large homes and even apartment buildings.
Detects Water Using 3 Separate Sets Of Sensors
Main Sensors
Place near toilets, refrigerators, water heaters, and most other appliances and fixtures.
Drip Sensor
Detects as little as two drops of water, and should be placed underneath potential leaks, for example under toilet valves, drains, or sinks.
Remote Sensor Probe
Monitors tight spaces and can even notify you before a sump pump overflows. Use underneath appliances or other difficult to reach areas.
15-Year Battery Life
The Leak Detector includes a 15-year battery, and you will receive an alert when the battery runs low.
Waterproof Housing
Reuse your Leak Detectors even after a leak – its waterproof housing protects it from water damage.
Extreme Wireless Range
The Leak Detectors communicate directly with the Valve Controller over the air up to 1000' away.
Remote Access
Shut off the water and receive notifications right on your smartphone.
Easy Interface
The simple, intuitive interface lets you get on with your life and focus on what matters.
Activity Log
Search through a log of events to see when something happened in your home, either for yourself or insurance purposes.
Weather Alerts
Receive notifications when severe weather conditions are headed your way.
Let's Stop Water Damage together
Guardian Leak Prevention System Plus
What's Included:
1 Valve Controller
3 Leak Detectors
2 Remote Sensor Probes
AC adapter with 10' cord
Setup Guide
1 Year Limited Warranty